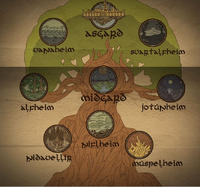 The Nine Realms are a group of worlds connected by the World Tree Yggdrasil. The Nine Realms are not the only realms in the universe, but there are other planets as well.
The Ten Realms in the comics
For a long time it was believed that there were only nine realms connected to the Yggdrasil. However, the tenth one, which Odin had exiled from the other worlds, was recently found and reopened by Thor and Loki.
The Nine Realms in the movies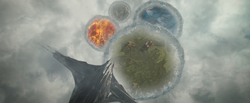 Community content is available under
CC-BY-SA
unless otherwise noted.